UK firms report 'robust confidence levels' for 2018

PwC survey to mark opening of Davos finds most companies are optimistic about growth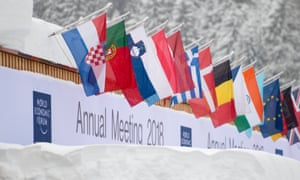 Nine out of 10 business leaders in Britain are upbeat about the growth prospects for their companies over the coming year despite uncertainty about the impact of Brexit, the consultancy firm PwC has reported.
In its annual survey of chief executives to mark the start of the World Economic Forum in Davos, PwC found that optimism about the health of the global economy was boosting confidence.
The report said 36% of business leaders expected the global economy to strengthen in 2018, more than double the 17% who forecast an improvement during 2017 in last year's survey.
Almost 200 UK executives were questioned as part of PwC's survey of the business mood in 85 countries, with 88% saying they were optimistic about their organisation's growth prospects for the next 12 months, broadly in line with the global figure of 87%.
Kevin Ellis, the chairman and senior partner of PwC, said: "Robust confidence levels among UK CEOs points to resilience in uncertain times, but this is tempered by a big dose of realism about the challenges ahead. Brexit uncertainty, regulation, availability of skills and cyber are key concerns but business leaders remain confident they can navigate through them."
The report shows that UK boardrooms are braced for robots and artificial intelligence to transform the way they do business over the next five years, with 69% of executives expecting disruption from technological change.
Ellis said: "Disruption from emerging technology is now a fact of life and business leaders are considering how the fourth industrial revolution will impact their operations and employees.
"At the same time, they also have the day-to-day demands of managing costs and growing their businesses. How UK businesses respond to these short- and long-term opportunities and challenges will determine their own and the UK's future success."
In a separate report, the World Economic Forum said the UK came 21st in its new measure of economic performance designed to be an alternative to gross domestic product.
Norway, Iceland, Luxembourg, Switzerland and Denmark filled the first five places in the WEF's inclusive development index, an annual assessment that measures how 103 countries perform on 11 dimensions of economic progress in addition to GDP.
Britain was ranked fourth of the G7 industrial nations – behind Germany (12th), Canada (17th) and France (18th) but ahead of the US (23rd), Japan (24th) and Italy (27th).
The WEF said a new performance measure was badly needed. "Decades of prioritising economic growth over social equity has led to historically high levels of wealth and income inequality and caused governments to miss out on a virtuous circle in which growth is strengthened by being shared more widely and generated without unduly straining the environment or burdening future generations."